Start of main content
Energy efficiency projects of the DIA Group in 2016
COUNTRY
Projects
Investments
Spain
LED exterior lighting outdoors and in DIA Maxi and La Plaza store reserve areas
3,5 million euros
LED lighting in warehouses
Installation of online automation
Modernisation of central cooling
Renovation of positive cold chambers
Portugal
Renovation of in-store capacitor batteries
1,3 million euros
LED lighting in warehouses
Renewal plan for refrigerated display cases and installation of doors
Installation of in-store electronic ventilators
Brazil
Installation of doors for refrigerated display cases
*1,1 million euros
LED lighting in warehouses
Argentina
Installation of doors for refrigerated display cases
China
Installation of in-store EC motors that combine alternating and continuous voltage
19.233 euros
All the stores already have LED lighting
*DOES NOT include the investment in contractual improvements.
Spain
Modernisation of central cooling and chambers
In Spain, work was carried out in 2016 to give continuity to the efficient energy processes put into operation in the previous year, as well as the implementation of new projects focusing primarily on establishments and warehouses.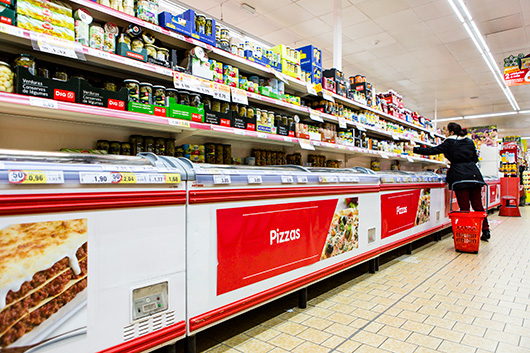 In regard to stores, the efficiency projects have focused mainly on the DIA Maxi and La Plaza de DIA formats, where traditional lighting has been changed to LED lighting both outside the establishments, including the parking lots of DIA Maxi, as well as the reserve areas.
Similarly, progress has been made in the modernisation of central cooling and chambers, in line with the project started last year, and online automation systems that allow greater control and monitoring have been installed.
As for warehouses, the automation and monitoring systems have been improved to achieve better follow-up, and LED lighting hoods have been installed in the dry food rooms.
This project has involved over 400 establishments in Spain and 7 warehouses at the end of the financial year, for a total investment of EUR4.33m.
Portugal
More efficient systems and models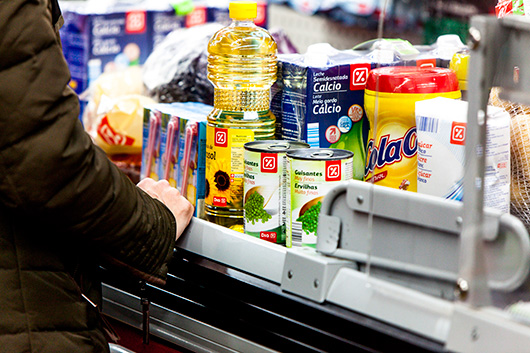 Portugal has undertaken a renewal plan and the installation of in-store capacitor batteries, in addition to replacing the old cold display case ventilators with electronic models. Furthermore, the former semi-open cold cabinets have been replaced by display cases with doors that allow greater savings.
As for warehouses, as in Spain, the renewal of traditional lighting to LED lighting has been undertaken.
The efficiency processes applied in Portugal during 2016 have involved more than 150 stores and two of the company's three warehouses, following an overall investment of EUR1.2meuros.
Brazil
Renewal of display cases and commitment to LED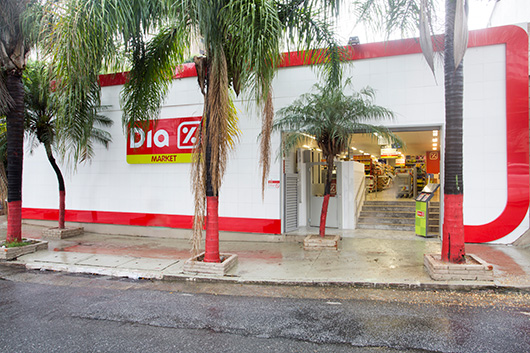 Brazil has implemented a renewal project and the installation of doors in the cold display cases in stores, in addition to replacing traditional lighting with the LED system.
In regard to warehouses in Brazil, a change in lighting towards the LED model has also been undertaken for more efficient functioning.
The energy efficiency projects applied in Brazil during 2016 involved over 300 stores and two warehouses, for a total investment of EUR2.7m.
China
LED lighting in all stores
At the end of 2016, all stores in the Chinese market already had LED lighting and a total of 196 establishments had ventilators with EC motors, a technology that combines alternating and continuous voltage and allows greater efficiency and flexibility of systems.
Argentina
Renewed cold display cases
During 2016, the energy efficiency projects involved 40 stores, in which new doors have been installed in the cold display cases. For the upcoming year, this project is expected to continue.
It should be noted that energy prices in Argentina are well below those of the other countries in which the company operates.
End of main content