Start of main content
During 2016, the DIA Group worked on the development of a Corporate Social Responsibility Master Plan that will be in charge of structuring and establishing the priorities in this area for the 2017-2019 period.
Based on conclusions prior to the materiality analysis, the most relevant aspects for the company and its stakeholder groups have been identified and evaluated. In addition, a description has been provided of the main risks and opportunities relating to each of the aspects considered and a series of actions aligned with sector good practices has been identified.
These actions have been revised and analysed by the Group's Department of Corporate Social Responsibility, giving priority to the lines of actions that take into account three variables: state of development, impact, and complexity.
The DIA Group classifies these lines of action into three broad objectives:
Positioning: Align the company's positioning with the expectations of its priority stakeholders.
Management: Pursue improved management of the DIA Group in aspects of Corporate Social Responsibility.
Organisation: Create action frameworks that generate a shared vision of CSR at DIA, in alignment with all regions.
After the operating indicators and targets of the Master Plan have been validated, the DIA Group has defined a balanced scorecard to allow the Board of Directors to follow-up on the application of the previously defined lines of action. This balanced scorecard measures, on the one hand, the level of progress of the actions and the degree of compliance with the defined goals and, on the other, it measures the degree of operational compliance corresponding to each of the actions envisaged.
The following lines of action have thus been defined for the 2017-2020 Master Plan: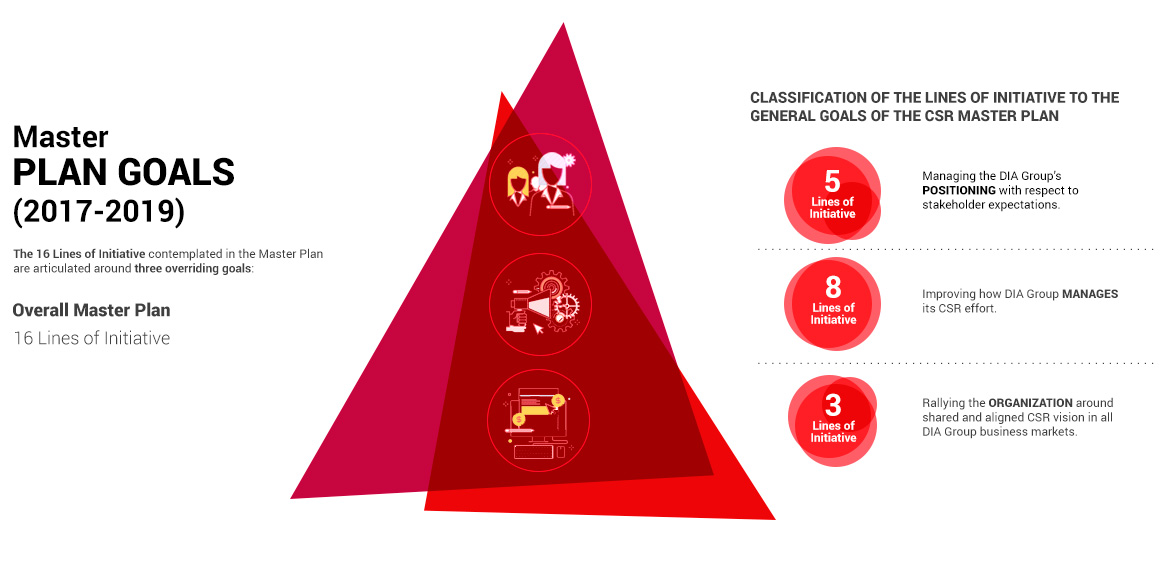 End of main content