Other relevant information
Start of main content
Stock market information
DIA share price performance
(From 1 January 2016 to 31 December 2016).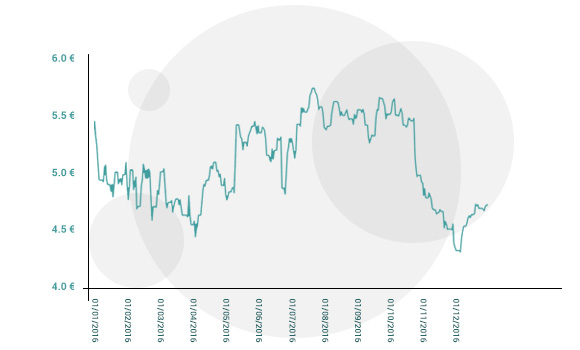 DIA share price versus stock market indices
(From 1 January 2016 to 31 December 2016).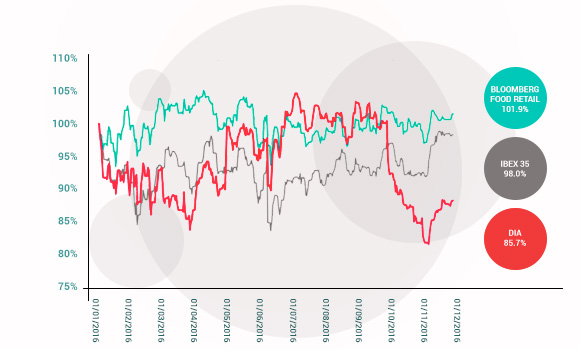 During 2016, DIA's share price fell by 14.3%, versus the 1.9% appreciation recorded in the Bloomberg Food Retail Index, and underperforming the 2.0% drop recorded by the Ibex 35, the Spanish stock market's main reference index. During 2016, the company saw a minimum price per share of EUR4.224 on 6 December, and a maximum of EUR5.755 on 22 July, closing the year at a price of EUR4.665 per share.
During 2016, the liquidity of DIA's shares remained high, and with the upward trend maintained since its listing, it accumulated a total of 854 million shares traded in the year, with a total traded value of EUR4.258bn.
Dividend policy
The DIA Group has defined a dividend distribution policy consisting of the distribution to its shareholders of between 40% and 50% of underlying net profit.
Since Distribuidora Internacional de Alimentación S.A. was listed on the stock market on 5 July 2011, it has distributed five sole ordinary dividends charged against preceding years. The cumulated gross amount of these dividends was EUR0.78 per share, at the top of the range of the dividend policy communicated by the Company.
At the AGM, the Board of Directors will propose a dividend payout of EUR0.21 per share, 5.0% higher than the EUR0.20 per share paid on 14 July 2016. This amount represents a 49.8% payout ratio over underlying net profit and will imply the distribution of a maximum amount of EUR128.4m in dividends to shareholders.
This 2016 dividend means that DIA's total shareholder remuneration since its 2011 listing has now reached EUR935m, of which EUR623m in dividends and EUR312m in share buyback programs that were finally amortised.
Management of credit rating
Credit rating agencies Standard and Poor's (S&P) and Moody's attributed to DIA a long-term rating of BBB- with stable outlook and Baa3 with positive outlook respectively. The Company aims to keep its corporate rating within "investment grade" range and not achieve financial leverage above 2.0x net debt on adjusted EBITDA.
Other information
DIA's Corporate Governance Report is part of the Director's Report and is available at www.diacorporate.com and published as price-sensitive information on the CNMV (Spanish National Securities Market Commission) website.
End of main content