Start of main content
Sponsorship and value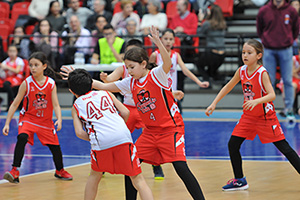 In 2016, the DIA Group signed the first sponsorship in its history, through an agreement with the Spanish Basketball Federation. Under this agreement, members of the Women's National Team will bear the company logo on the leg of their uniforms, in addition to undertaking various actions relating to Social Responsibility, with the aim of promoting the values shared by both entities, including Efficiency, Team, Initiative, and Respect.
This collaboration falls within the framework of Universo Mujer (Women's Universe), a comprehensive program for the development of women in society, for which initiatives are developed that contribute to social improvement and transformation through values inherent in women's sports.
In the first stage of this agreement, in October 2016, the DIA Group provided food to the Spanish Youth National Basketball Team in the world championship held in Zaragoza.
2017 is expected to see the development, in collaboration with the Federation, of various projects in Spain relating to sports, childhood and equality, such as the launch of the DIA SuperLeague, the first school basketball competition, which involves 192 teams made up of 2,300 boys and girls between the ages of 9 and 10. At the close of this annual report, the DIA SuperLeague had already been presented and has started in Cáceres, Madrid, Valladolid, Gijón, Zaragoza, and Málaga.
End of main content